A luxury villa with lush gardens -
- and a splendid pool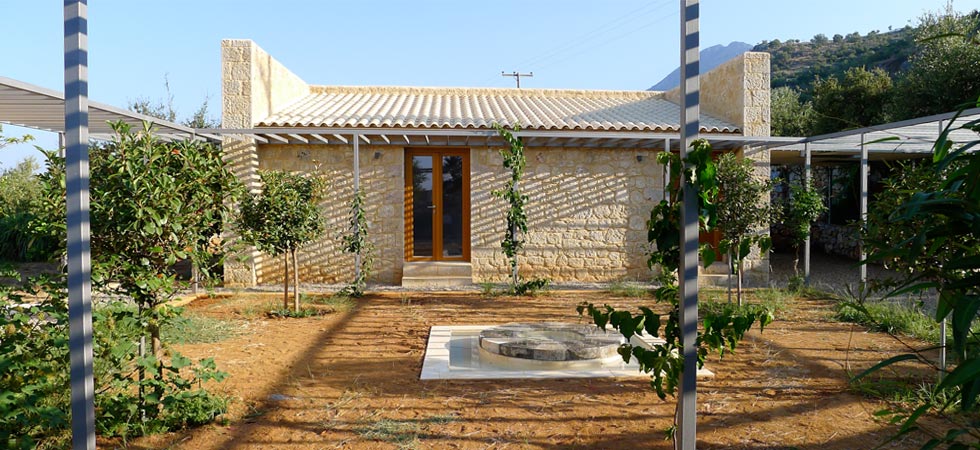 A guest studio apartment
Ground floor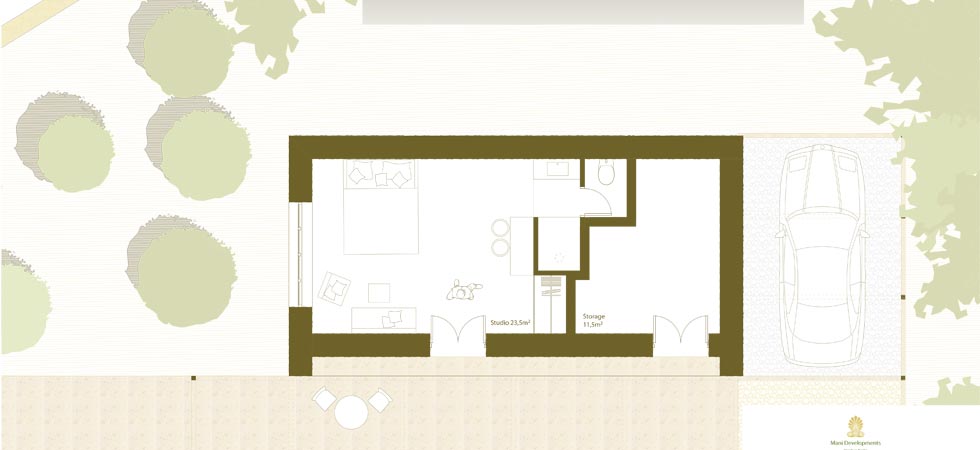 Studio apartment & storage
Overall plan
Technical Aspects: The house and studio apartment have 'low temperature under floor heating'.
Heat is provided mainly by thermal solar collectors (20m2, 'hidden' along the northern perimeter wall).
We are storing 1.000 l of hot water - up to 80C -
- in an insulated tank. This together with cheap off-peak electricity (to add heat if necessary) will provide hot water for tap use & underfloor heating, computer controlled. One inch copper pipes (separate circuits) for hot & cold water are providing stable pressure for all taps.
The outside walls -
- of the buildings are 0.52m thick, composed of the traditional double faced rows of stone set in mortar, connecting like a closed zipper and providing immense stability with a certain elasticity and superior insulation against the summer heat. Walls like these, built centuries ago in the area, are often still standing strong although the builders used clay to bind the stones instead of mortar. All our corner stones & lintels are hand cut! This is not the charming delicate newly composed & invented stuff (corner stones from coloured cement), but the old way.
A single-brick wall -
- 0.08m thick, is built on the inside of the stone wall with a gap of 0.04m between them which holds Polystyrene insulation sheets and a cushion of air. This kind of external wall combines the advantages of traditional Mani building techniques (very cool in summer) with those of modern insulation. This technique is applied to the annex and even the storage as well as the house. There will be no bridge for humidity or heat! The roofs and the roof terrace (48m2): insulated by a double layer of foils and a 10cm thick Polystyrene slab below the concrete respectively the roof tiles. These areas are insulated according to northern European standards. Although we do live on the same latitude as Gibraltar and the area enjoys comparably mild winters, we have to be protected against the warmth of summer.
Inside floors and the walls in the bathrooms are tiled with fine 'Tunisia Marble', 'Antiqua' finish.
Doors and windows,  French doors, all from Meranti (farmed tropical wood), factory built abroad, double glazed, top quality, German standard.
Elegant bathrooms (3)
Custom made wash-bowls
Bathroom fittings from brushed stainless steel, Italian design & origin
A sliding wall -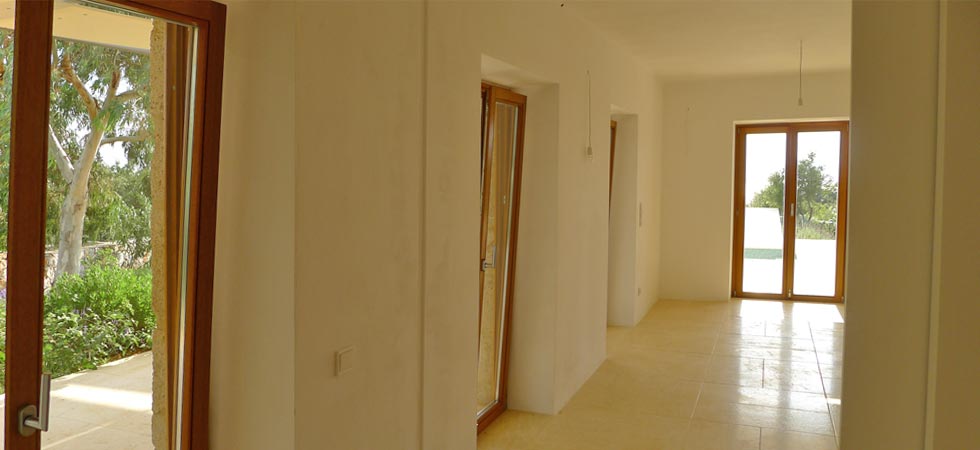 - separating -
- the kitchen -
- from the media room.
Inner doors from ash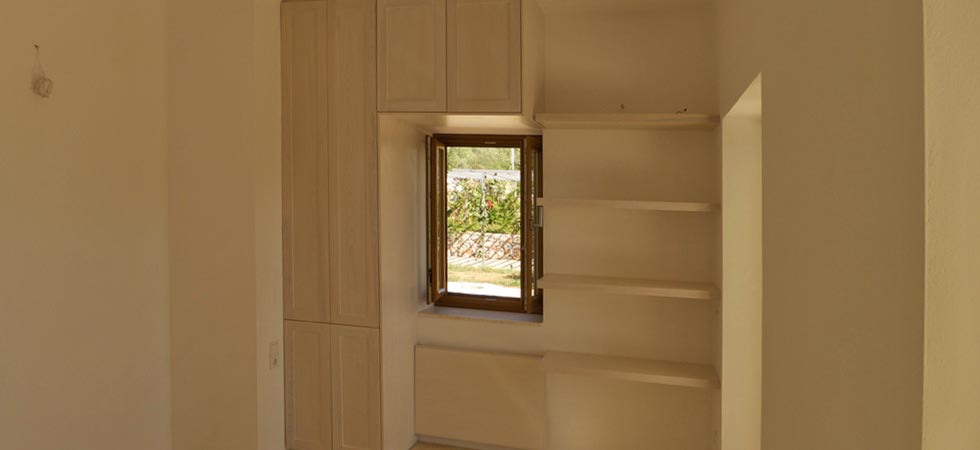 Integrated cupboards from ash
Same for kitchen furniture & the island (1.65m x 1.25m x 0.92m)
Top end kitchen - like a craftsman's work shop. All kitchen equipment from Siemens
A wok-burner (5.7KW) in the center.
Tops from Canadian 'Ultra White Quantum Quartz'
Blanco Claron, undercount stainless steel kitchen; brushed stainless steel single lever tap
In southern Greece, for 8 month a year, the outside -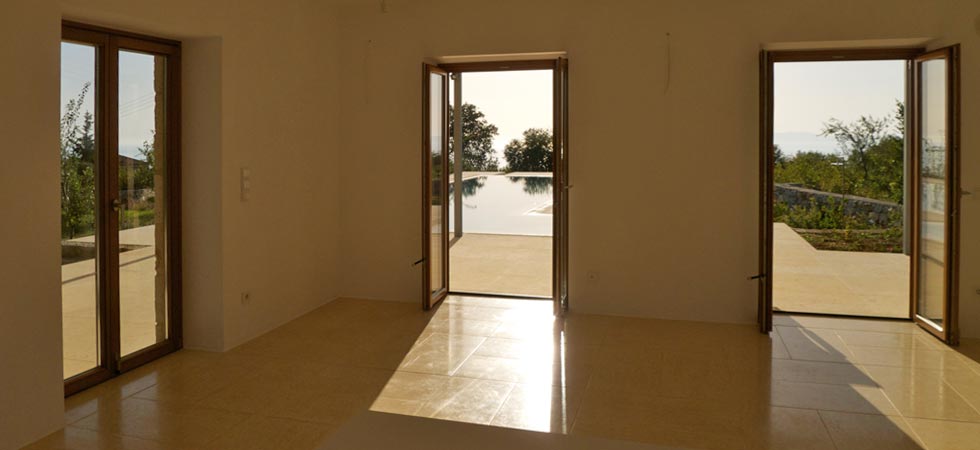 - becomes an extension of the inside.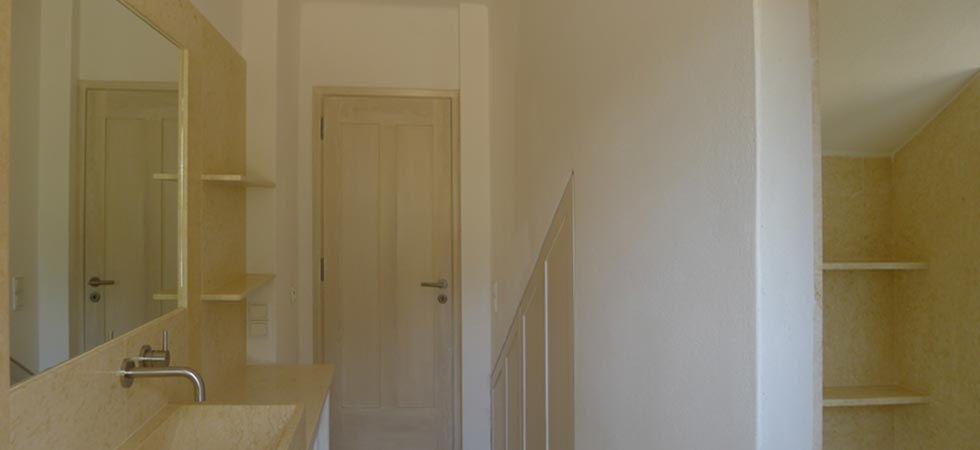 Downstairs' bathroom
Tropical shower, brushed stainless steel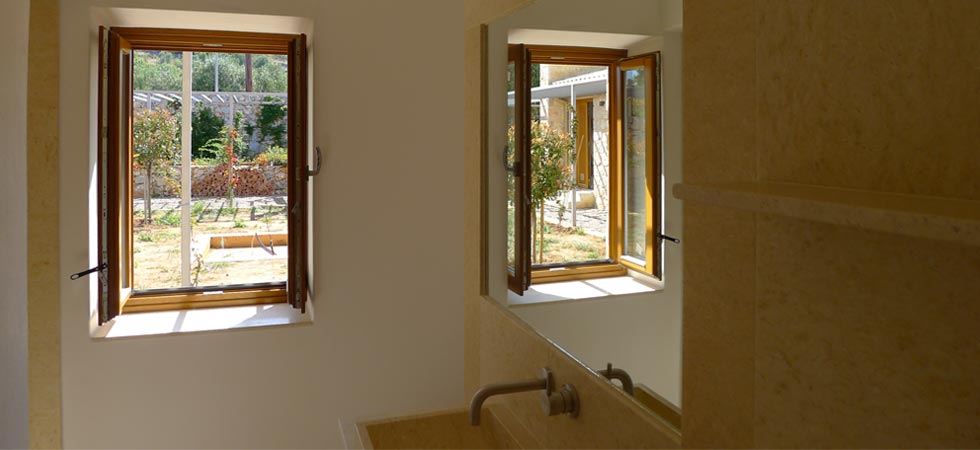 Morning sun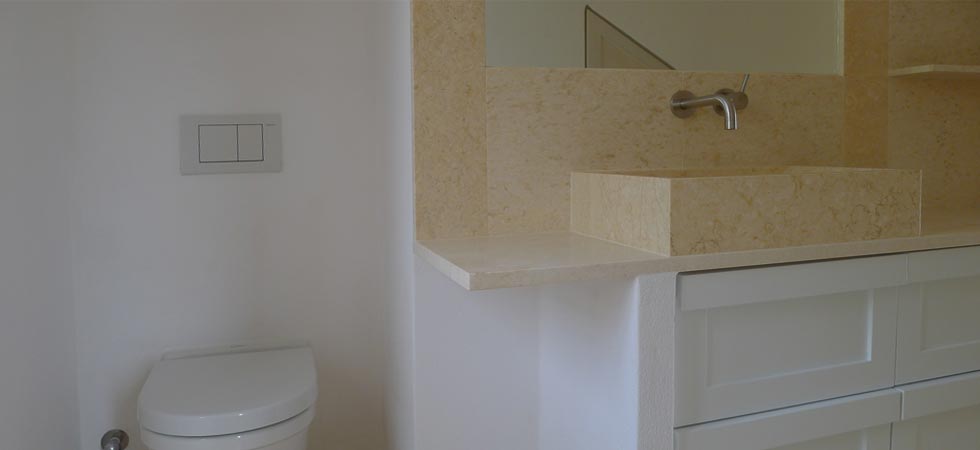 Precision job
Symmetry
Detail of a bedroom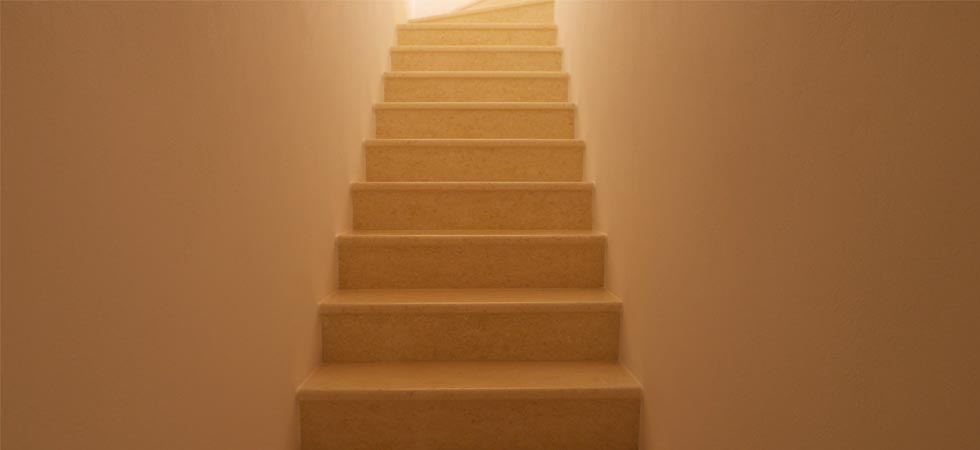 Towards the master bedroom
Master bedroom: Towards the east & sunrise
Towards southeast
Towards the master bathroom and roof terrace
Traditional ceiling from local bamboo
Master bathroom
Bath tub -
- and toilette(s) from Phillip Starck
A tropical shower
Golden Tunisia Marble with a myriad of petrified shells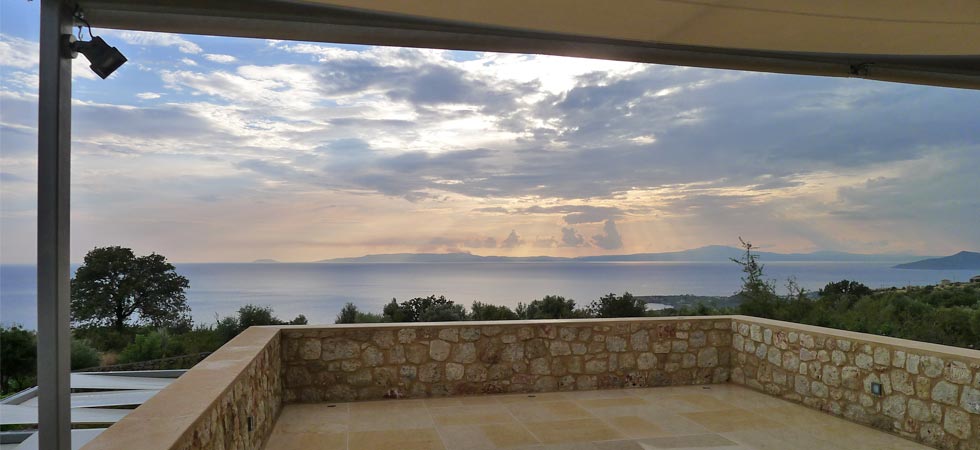 After a summer's thunderstorm
The studio apartment
The studio window facing west
A tropical shower
All potentially wet floors are tiled with sandblasted & brushed 'Sunny Marble'.
Orange trees
We hope you like what you see.