Stephan Kaske - Prices and Costing
General Practice : The accepted and current practice among builders and home owners in Greece, among buyers and sellers, is to give quotes in square meters based on the measurements of the exterior of the proposed building (detached house or apartment), always. This practice is based on current law whereby planning permission specifies the size of buildings on a particular plot in square meters measured from the external dimensions of the buildings. So sellers, builders or landlords will quote 'XXXX Euros' per square meeter – based on external dimensions (gross). In other countries quotes are usually based on floor- or living space (net).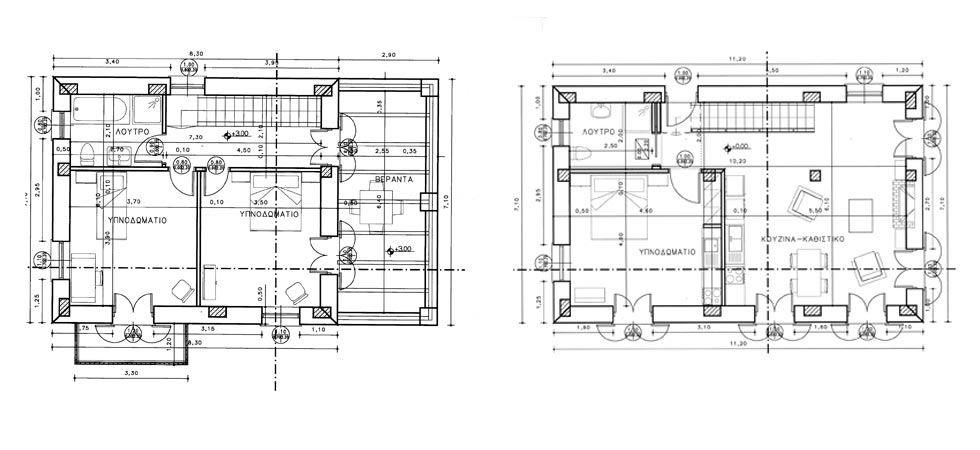 Local Floor Plans: The size of this House will be quoted as 138,45 m2 though internal floor space is just 106,75 m2 (net). In Greece it always will be offered as a house of 138,45 m2.
However, since 2003, allowance has been given to houses constructed with traditional stone walls - 0.5 meters thick and 'double faced'. In such cases, the size of the house is calculated as 'internal floor space' and is not based on the external measurements. This is significant, as on a many properties planning allows for only 200 m2 of building. On such a property we could add a 2nd building from stone of 93,25 m2 (net) - approximately 122 m2 (gross) measured from external dimensions (106,75 m2 + 93,25 m2 = 200m2 - though external measurements would add up to about 260m2). This exception does not apply to brick-built walls or walls from concrete which are significantly thinner.
Shortly, we are allowed to build - traditionally in stone - about 260 m2 (gross), although the law allows only for 200 m2 of 'ordinary' building (no walls from stone, 0.5m thick).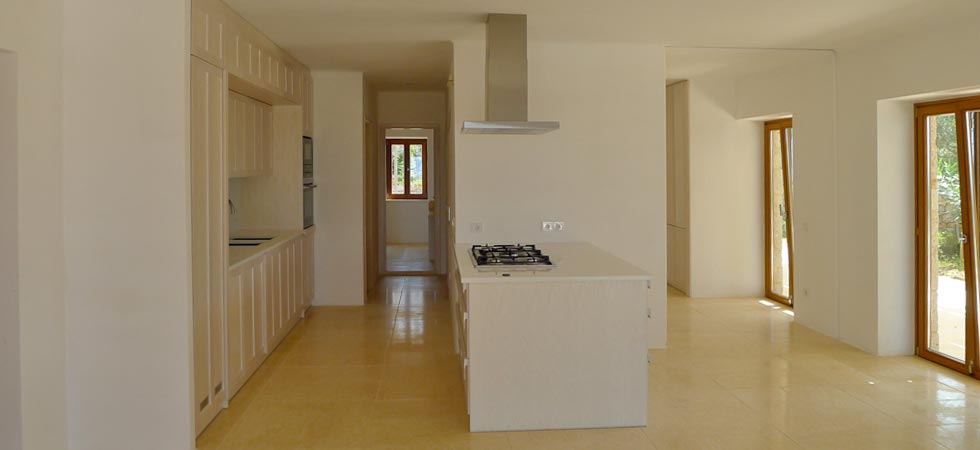 Mani Developments uses 'Internal Floor Space' (net)
to calculate quotations
You are looking at about 55 m2 internal space (net) - there is a hidden bedroom in the back - or at 75 m2 gross (external measurements).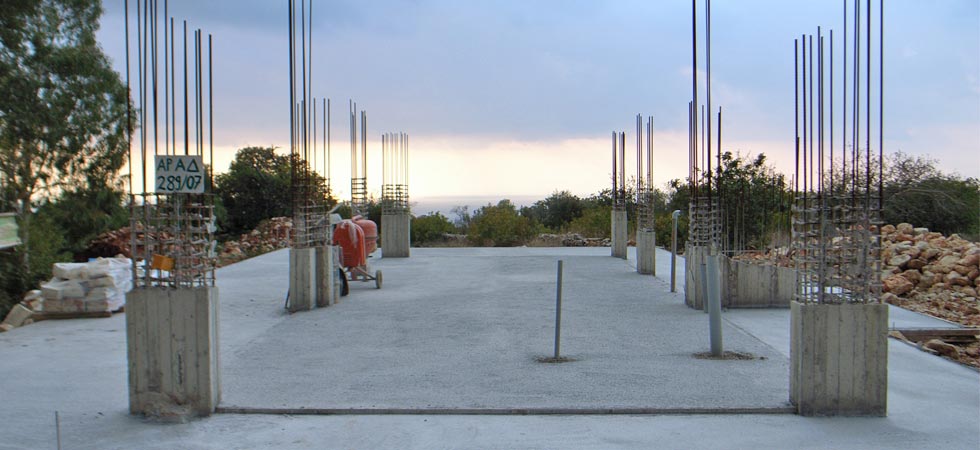 How could foundations be revealed after the completion of a building?
In some cases, the quote tendered is for the completed house and includes all the plumbing, electric work, floor tiles, fitted kitchen, bathroom and toilet fittings etc. In such cases, the quote is based on prices for materials of a general or standard price (tiles, baths etc) and the purchaser will pay extra for materials of a higher cost by agreement. Keep in mind, connecting to the mains can be a serious cost factor and IKA (the obligatory payments towards National Insurance) IS a serious one. Neither the builder, nor the engineer or architect, just the building owner is solely responsible for the IKA payments; think of 10% to 15% of construction costs.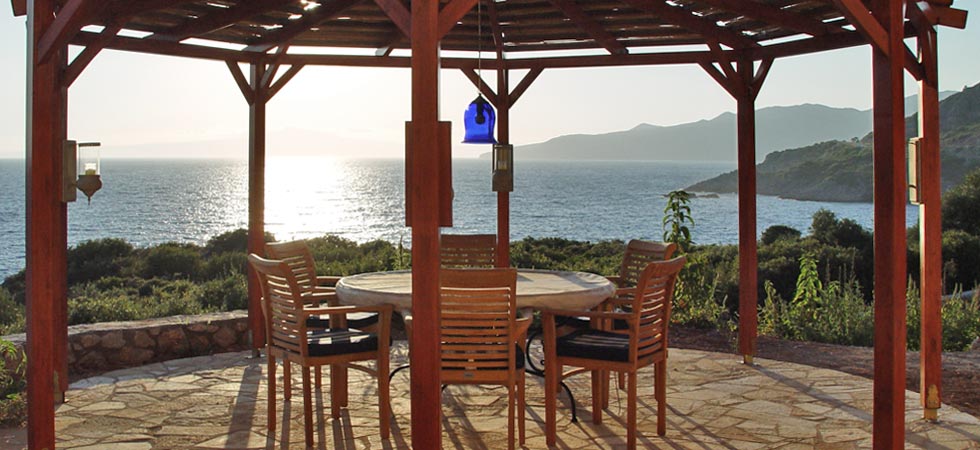 Furthermore, the work doesn't stop with the completion of the building, there is essential work still to be done that is usually not mentioned within the price per m2.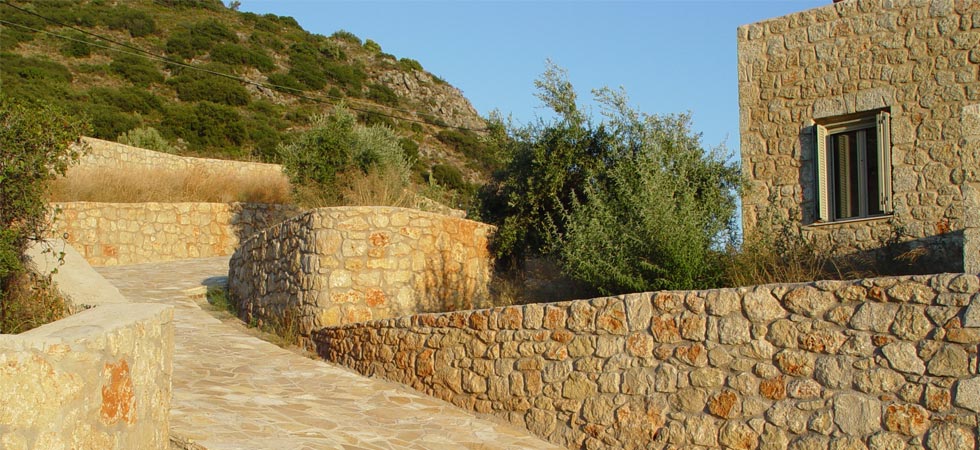 For example: A (paved) driveway, gate, patios, pergolas, landscaping, garden terracing and paths etc.
In other words, exterior work which of course includes clearing all the building debris.
In other cases the quote is for the completed 'shell' only and the doors, windows and shutters and all the interior work is subject to further discussion and agreement. This explains the wide variation in building quotes sometimes encountered by prospective purchasers and clearly the purchaser must make sure of the exact details of the quote given.
Distribution system of hot & cold water to 3 bathrooms & 2 kitchen
During construction we use superior materials with a special focus on modern insulation materials, foils & Polystyrene etc to protect against heat and humidity. Same in the internal fittings and fixtures of our houses (all water pipes are from copper).
We especially choose superior materials concerning bathrooms, brushed stainless steel taps, custom made bowls -
- kitchens sinks (also from marble) -
- handmade terracotta tiles -
- and custom made wooden floors - these are 20 cm wide and 3.5 cm thick.
Our m2 price includes everything - bathrooms from marble or fine tiles, fittings from Duravit and Hansgrohe/Axor - 
- or taps and accessories from Vola
Cupboards from fine ash
Kitchen fittings from ash -
- or from pine wood, locally preferred -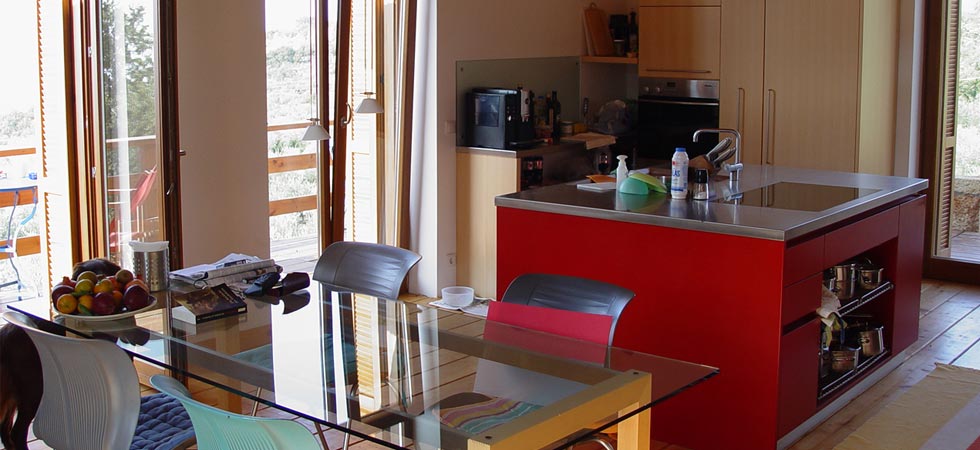 - or from Miele, should the customer wish for.
The Aloni House
Our plots are hand-picked to give maximum benefit from the views and environment. We cannot guarantee that there will be no future buildings on adjacent plots but we can ensure that the plot size and location will maintain your privacy and 'peace and quiet'.
Between a rock & a hard place
The topography of the site can influence the building costs. Factors such as whether the sub-strata is solid rock or soil or a mixture of both determines the amount of digging excavation and the time this takes.
4m below zero-level
Also, clearly a house built on a slope requires more excavation and steel reinforced concrete than a house built on a flat piece of land. The hillside location means that we have to cut into the slope during the digging process and back-fill the basement level to the base of the first floor level where the main entrance to the house is accessed from a courtyard. This in turn means we have to provide extra insulation and moisture proofing where the back-fill occurs.
Garden terracing and other outdoor work takes more effort and material when the house is built on a slope.
If asked for a price per m2 – this should be approximately incorporated depending on the client's wishes.
It is only in the detailed discussions and planning 'head to head' ….
All of the above should illustrate why we do not give a quotation per square meter in the same way that most other builders do. We can give an approximation based on the plot location and size of house required but it is only in the detailed discussions and planning 'head to head' with our clients that we can reach more specific pricing. We build 'tailor-made' houses and once we know what you want - we can tell you exactly what it will cost.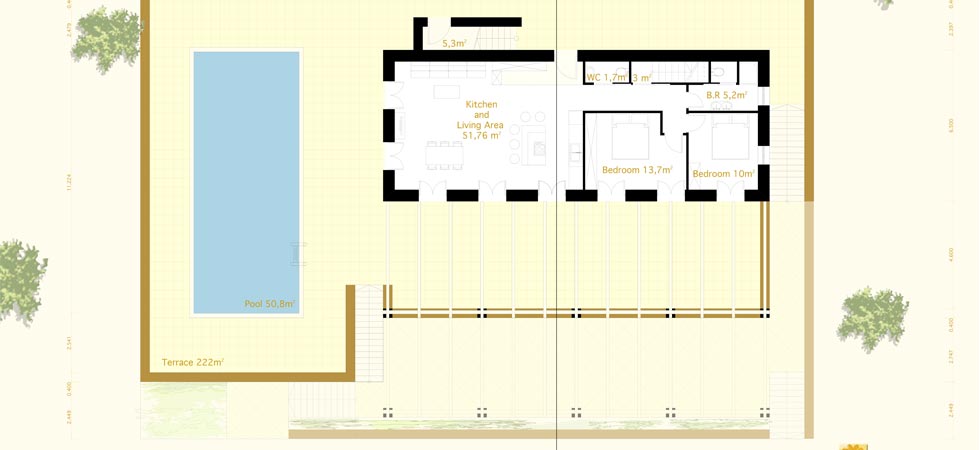 We will give a binding tender in writing which is usually valid for a period of 18 months, and in which the prices are fixed.
Only additions or changes to the original specifications by the client may incur extra costs but these would be made clear as and when they are requested. Note also that Planning Permission costs are much higher than they used to be.
In general, you can relax. We will take care of the building of your home and later of your property in each and every aspect.